Summary
Just as Europe faced a financial crisis and when many investors chose to pull back their investments from Europe, China investors surged into EU from 2010.
The Story
Chinese direct investments into EU countries in 2010 was 6.1 billion Euros, but by 2012, this figure has grown fourfold to around 27 billion Euros. Analysts forecast that in the next 10 years, Chinese direct investments into EU countries will grow steadily, particularly in company mergers and purchases. Part of the reason for this derived from the financial crisis which made European assets affordable for the Chinese, and another part is related to the change in Chinese foreign investment patterns and structures, from finding and extracting natural resources from developing African countries, to obtaining brands and technologies from developed countries.
Since 1999, China has begun exploring and expanding its foreign investments in order to raise its own economic powers. However, Chinese investments into Europe have not all been a smooth sail. Some of the most significant obstacles it faced comprised of cultural differences, local labour laws, the cost of human resources, and immigration issues. Moreover, in more recent times, one of the characteristics of Chinese foreign investments is the fact that private enterprises are becoming increasingly important in their roles. According to statistics from the Deutsche Bank, previously the main sources of investments in Europe came from State-owned Enterprises in China, but between 2011 and 2013, Chinese private enterprises have increased their investments in the European continent from 4% to 30%.
Despite the fact that Chinese investments into Europe may be met with resistance, but this trend is set to grow steadily, yet perhaps there will not be any major breakthroughs. According to the estimation of experts, by 2017, Chinese foreign investments will total over 200 billion dollars, a great chunk of it into Europe. 97% of Chinese companies which have invested into Europe say that their investments will continue to increase in future.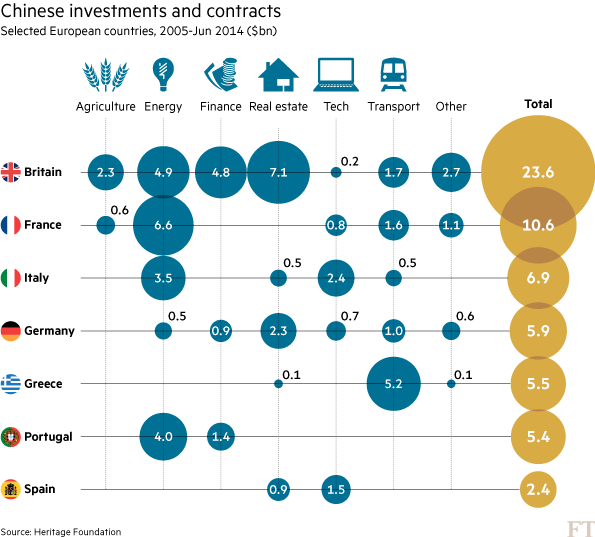 Further reading: