Poland's conservative opposition Law and Justice party has won the parliamentary elections. Beata Szydło will become the country's next prime minister and its third female prime minister, as ruling party Civic Platform concedes defeat.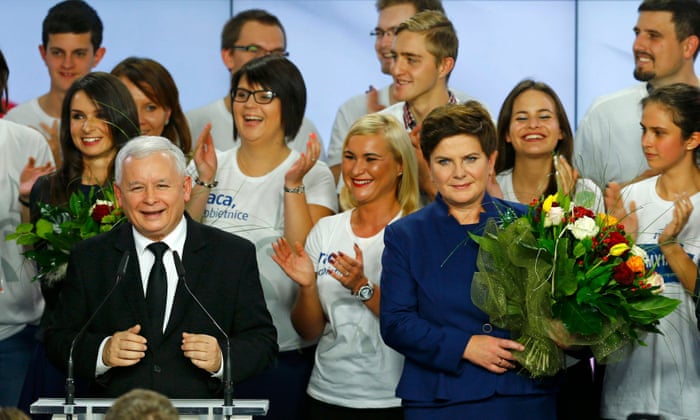 Jarosław Kaczyński (front left), leader of Poland's winning party, Law and Justice (PiS), and its candidate for prime minister, Beata Szydło (front right), celebrate after the exit poll results are announced in Warsaw. Photograph: Paweł Kopczyński/Reuters
Poland has consolidated a shift towards the right after exit polls showed voters had handed an absolute majority in its parliamentary election to Law and Justice, a Eurosceptic party that is against immigration, wants family-focused welfare spending and has threatened to ban abortion and in-vitro fertilisation.
The current ruling party, Civic Platform, conceded defeat following the first exit poll which gave the national conservative Prawo i Sprawiedliwość (Law and Justice party) 39.1% of the vote, putting it far ahead of Civic Platform on 23.4%.
If the latest polling is confirmed, the result would give Law and Justice 232 seats in the 460-member lower house of parliament, meaning the party could govern alone and that its lead candidate, 52-year-old Beata Szydło, is likely to be appointed prime minister. It would be the first time since democracy was restored in Poland in 1989 for a party to have won enough seats to govern alone, and also the first time since 1989 that there will be no left-wing party in parliament.
Distrustful of Germany and the EU, Law and Justice has strong support in Poland's rural areas, and wants more sovereign control and believes a strong Nato hand is required to deal with Russia. The party promises more welfare spending, a lower retirement age and new taxes on foreign banks.
After eight years in office many Poles had grown weary of the governing centrist Civic Platform's unfulfilled promises, scandals and what was perceived by some to be an aloof attitude.
Szydło has also campaigned against the EU forcing member states to accept a set number of refugees from the Middle East and north Africa.
In Poland, Euroscepticism arose out of frustrations over sovereign influence and the economic dominance of neighbouring Germany, but for the large part it is linked to the country's conservative family values and worry over gender politics and perceived secularist trends that are seen as undermining the influence of the Catholic church.
One Warsaw voter, Małgorzata Cyganik, a 37-year-old translator, said she was afraid the election would lead to individual freedoms being curtailed. "People are voting to protect what they see as the things that are special about Poland and that are threatened by the outside, but with that may come a big step backwards."
Lucas Miszczyk, a 48-year-old sound technician, took the opposite view, saying he felt Law and Justice was the only party that has Polish interests at heart. "If you look at Warsaw, you see only foreign shops, banks and brands – C&A, Bank Millennium, H&M, Carrefour. Where have all the Polish businesses gone? We have opened our doors too much and we have lost control of our own economy. We must say stop."
Poland's economy is expected to grow by 3.5% this year and next, and unemployment recently fell below 10%. Voters, however, have responded favourably to introspective rhetoric and claims that secular and gender politics in the EU, and the multi-ethnicity of western Europe, are a threat to traditional Catholic values and national sovereignty.
The governing Civic Platform has never recovered from a 2014 eavesdropping scandal that discredited high-profile government ministers.
Law and Justice last held power from 2005 to 2007, when Kaczyński governed in tandem with his twin brother, the late president Lech Kaczyński, who died in a plane crash in Smolensk, western Russia, in 2010.
Their time in power was marked by internal political turmoil triggered by their combative style and international tensions brought about by their anti-German and anti-Russian views. Since his brother's death, Kaczyński has hinted several times that he believes the plane crash was Russia's work.
"If Law and Justice end up governing alone with an allied president, Poland will become another Hungary," said Prof Radosław Markowski of the Polish Academy of Sciences, a reference to the extremist rightwing views of the Hungarian prime minister, Viktor Orbán.
Interesting Fact 1: The Polish Parliament is divided into the Senate and the Sejm (House of Commons), with 100 seats in the former and 460 seats in the latter, where Members of the Parliament are elected to their seats, with a term of 4 years. The Sejm is chosen by means of proportional representation, while the Senate is chosen by single constituencies.
Interesting Fact 2: Poland's population currently stands at 38.5 million, and is the EU's 6th largest economy. Although it has not yet joined the Euro, its economy has performed well. In recent times, as Russia's influence and powers rise, Poland is Western Europe as well as US's best European ally. The current president of the European Council, Donald Tusk, was Poland's previous Prime Minister.
Further reading and sources of information:
http://www.bbc.com/news/world-europe-34631826
http://www.theguardian.com/world/2015/oct/25/poland-lurches-to-right-with-election-of-law-and-justice-party